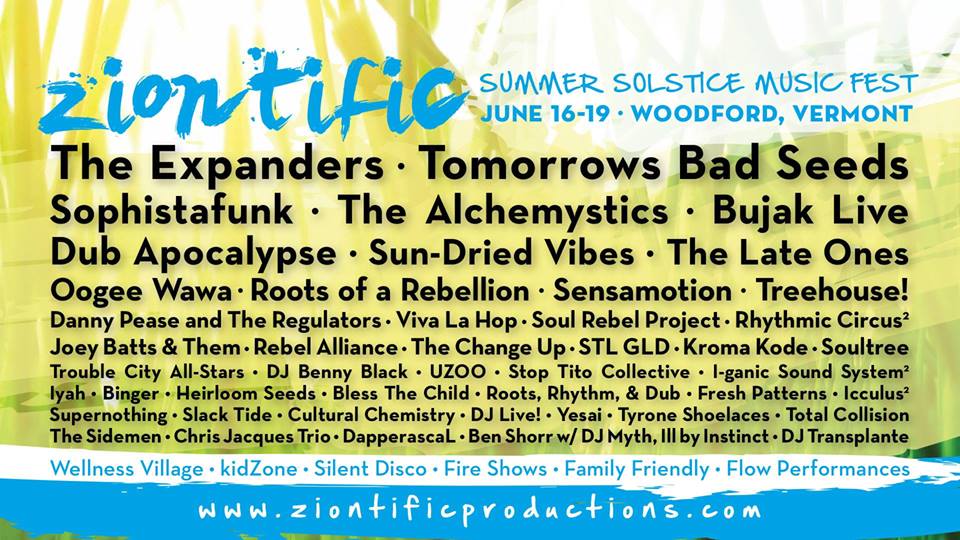 We are so proud to announce that we've been included in the line up for Ziontific 7 Music Festival in Woodford Vermont  June 16-18.  This is an amazing Summer Solstice Music Festival smack in the middle of Green Mountain State Park between Bennington and Wilmington Vermont at Prospect Mountain Ski Area. This is a 3-day festival featuring the likes of Sophistafunk, Dub Apocalypse and The Alchemystics among a bevy of others.  We'll be camping & jamming out Saturday Night by the fire as we hit the Main Stage at 1:00PM on Sunday. Come join us for an amazing weekend of camping and music in one of the most beautiful places on earth! 
AND-Tickets are $140.00 face value for three days of music and camping and we have them for only $100.00 each. Just email marie@tyroneshoelaces.com or message us on Facebook 
If you love camping and music then this is the place for you on a warm summer night!  Did I say we'll be playing music by the fire all night long? 
On Friday June 9 we make another stop at Olive's in Nyack NY.   Nyack is Rockland County's most happening scene and Olives is smack in the center.  Showtime is 10:00 for 3+ hours of Music!!!!!  Sammy Lamonica, on lone from Joe D'Urso and Stone Caravan and one of our original drummers joins us, filling in for Sammy Wags.