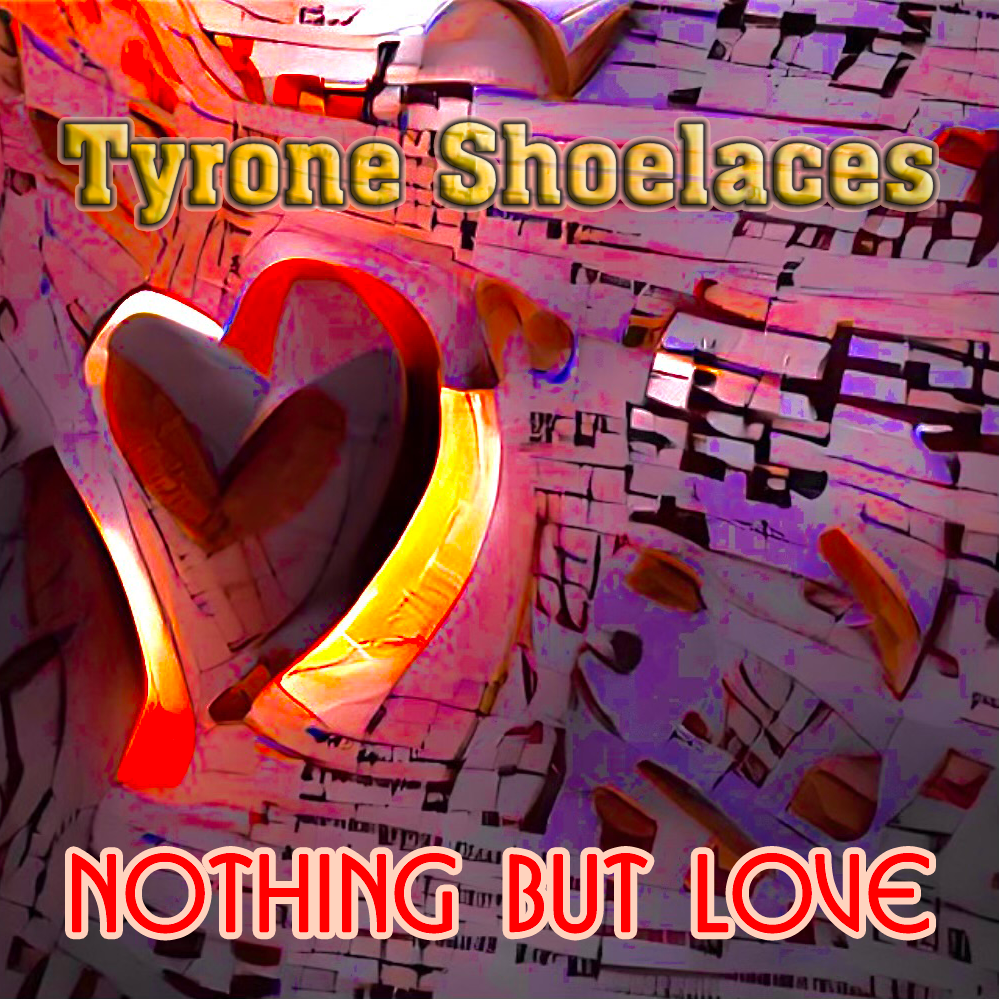 My Biggest Irony
The last Tyrone Shoelaces record was recorded in record time, we had our own studio and finished soup to nuts in about 6 months.  This time not so much. 
The first song rehearsed was Texas, a Tyrone Shoelaces OG half written back in the day by myself and Alex Plotkin.  We practiced it a couple of times and then COVID hit. 
Everything shut down as we know.  With the band's members living far apart it was nothing from Feb 2020 until November 2020 when the first discussions began about recording another record. 
Not all the songs were written yet, so more work was to be done on my part as I generally bring in some structures and some words and let the band stew it around and see what we come up with.  This was somewhat impossible now so I-Phone voice memos became the goto writing platform.   
I was listening to allot of TWIDDLE then as we had opened up for them the previous year.  I liked how they mixed genres in the middle of the songs and that led me to write a few songs with more than just an a and b part/bridge etc as we also always played a few different genres as well. 
Fast forward to Feb and March of 2021 when we were able to rehearse 2 or 3 times and scheduled some April/May dates for recording.  
After another Covid scare that canceled the first session, we were able to get all the rhythm tracks done in 2 sessions.  Generally we would run through the tune a few times and pick the best take and then add an overdub or 2. 
Next up was the reincarnation of the TSL horns led this time by Simon Pajaro, our tenor player.  Joining him was Tyrone veteran Nicholas Benitiz on Trumpet, and newcomer Nat Ranson on the trombone.  Nat had some big shoes to fill as the incomparable Freddy Fuego had held that spot for many years and Nat fit like a glove. 
Those sessions were a whole lot of fun as I rarely get to produce and write some horn lines.  Clearly, Sammy Wags, our drummer and co-producer, had a lot of say here. 
Finally the vocals had to be recorded.  Always the hardest but most fun part of the process for me.  Fortunately I had recently met Milo Baer and she became that MVP that we all look for when recording.  Her vocals and stage presence clearly brought and continue to bring the band up another level.  When I realized she would be recording and playing with us I wrote the part on Date Crack specifically for her.  I love bringing a female voice over a man's perspective.   
Needless to say, the words have to be completed by then and that's where I think the story begins. 
We are living in a time of the world when hate is at an absolute all time high, no matter where we look, and all 6 of the songs ended up having an underlying theme around love.  
I find this to be truly fascinating as I never really have total control over what I write- as I always try to write honestly from the heart.  No matter what " they" say,  I'll always believe the only thing that can overcome hate is love. 
I did not start out to write songs about love or hope.  If you would have told me that before the record I would have said "whaaaaaat???" 
But, that's exactly what happened.   
Nothing But Love 
Not really sure when this song became about love.  The first part of the song was written first as  I felt it was gonna be about an awakening.  I had been listening to alot of Twidle lately and loved how they mashed up the genres within the songs.  This was definitely an influence throughout the record. 
After writing the first part it was clear I wanted this to go in a "suite direction" with a middle part and then a happy jam band ending part.  After a few months of stewing it came together.  The horn lick came naturally on the piano first as I also knew I wanted to record with a full horn section again. 
The Lyrics also came naturally as I had the Nothing but Love refrain first and then wrote the rest about that. 
I always imagined Milo singing on this song and always new she would have the ending piece.  Needles to say, she crushes. 
Jonah Jonah 
Perhaps the purest song on the album about love.  Alex had shown me this song when he wrote it a few years back and I knew instantly I wanted to record and play this song forever. 
When I asked Alex, "Btw who the fuck is Jonah?"  
He answered, "Easy Chuck, infinite love." 
The song always had an easy feel to it and I never really thought about how we would record it.  Clearly it was driven by the acoustic guitar. 
Jimmy had recently picked up a 75 year old dobro and was excited about using it on Jonah Jonah.  I played acoustic guitar and Jimmy just did the rest.   
"Still hanging, still making the scene, taking nothing for granted, sometimes something in between."- Probably my favorite lyric on the whole record. 
Texas  
Perhaps the best recorded song of the bunch.  8 minutes and 3 different genres within the song. This was a collaboration of myself and my longtime writing partner, Alex Plotkin.   
The only words were a hodgepodge of ad-libs made up from an old recording.  As I started to add to Alex's first 2 verses it was clear the middle part became an ode to my children as they were coming of age.   
The line, "Speak your mind, take it to your grave" I thought was really important- Even ironically adding to this spread between love and hate. 
My favorite line is "Time pases, love fades."  I once heard that Bob Dylan's entire catalog could be summed up with those words. 
Trippin 
I wrote this song on the guitar when my mentee, Aaron told me, one time he was trippin on this babe he liked.  This was a long time ago and I hadn't  heard that word used before like that. 
I was like," Trippin?  How many doses did you take?"   He was like, "WHATT??? Nah man, trippin like I like her and shit."   Then of course trippin becomes that kind of term.  Well, not me.   
Trippin is trippin and thats what the song is about.  Now what does this have to do with love?  Well nothing unless your tripping with you babe inside of you across the great divide!   
The Hammond makes its one and only lead here.  Who knew the Hammond was only a few hours away from blowing an epic capacitor and causing an explosion and fire! 
Date Crack 
A song about dating in the 2022 and all the pitfalls of swiping, fake profiles, fake photos, crazy people, stalkers and the like. 
I had written the main chords of this song on my original Wurlitzer 200A many many years ago.  Thus the name of the song. I never did anything with the chords until this song.   
It was also clear from the beginningthat once Sammy added the swing we wanted to channel our inner Terry Cath and Chicago and a tip of the hat to that early Chicago feel.  Full Horns and Jimmy flat out just channeling crushing the guitar solo and we were there.    
I wrote the middle part exclusively for Milo as I wanted a female singing the male response for even more irony. 
Lullabies 
A lullaby that's as raw as raw can be.  Looking back I could have shortened this song and tightened up the lyrics a little bit.  But because this song is about raw love, shared over the phone, I wanted to keep it as real as possible. 
I also knew I really wanted to record this song in one take to keep the rawness.  During the song there's the slightest pause, (my favorite part of the song) where I realize I'm not going to clam and I will be able to record this in one take like I envisioned. 
Recorded on a 150 year old Steinway in Sammy's studio.